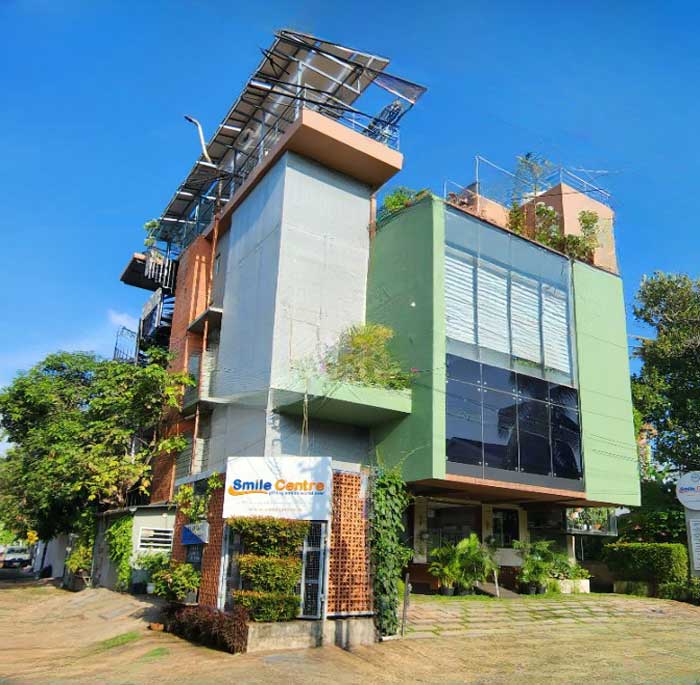 SmileCentre India is an advanced centre for Complete Dento-Facial Solutions situated in Kochi, the business and commercial capital of Kerala State, India. We are also the oldest centre in South India, with the maximum number of Immediate Load strategic implants placed over a period of 10 years (from 2009). Smile Centre India is one of the few dental implant centres in the world, recognized by the International Implant Foundation (IF), Germany. Two of the Clinical Masters and Mentors of the IF, Dr Prasanth Pillai and Dr Bobby Antony, are from our centre.
SmileCentre India is a unit of Pramod Dental & Oro-Maxillofacial Clinic, a well established dental clinic with more than 60 years of service, over two generations, the clinic was established by Dr. K.S. Pillai, Dental Surgeon and father of Dr. Prasanth Pillai, Director of the center. We have a large patient base comprising of both national as well as international patients. To know more about our patient experiences, kindly visit our Testimonials page.
Treatment Facilities
SmileCentre has advanced facilities to perform the entire spectrum of dental and facio-maxillary treatments ranging from basic procedures to complex dental procedures (dental implants, orthodontic treatment, smile designing/Smile Correction, Laser Dentistry, Dento-Facial Trauma & Deformities, etc.) and even further to complex facio-maxillary surgery procedures including cosmetic jaw surgery.
SmileCentre India has its own in-house state of the art dental imaging facility (2D OPG and 3D CBCT imaging) from Planmeca, Finland and a dental laboratory facility headed by an IF-trained dental technician, which are essential to complete the treatment with immediate loading strategic implants in the most ideal way.
Our 3000 sq. ft. clinic adhering to green protocols, is located in the heart of Kochi city (close to Vyttila) and easily accessible from all parts of the city. We have taken care to provide our clinic with excellent ambience as well as sufficient car parking provisions.
Attached Hospitals
We have a Hospital Dental Wing with highly experienced anaesthetists and other medical consultants where medically compromised and surgery-related cases are taken up for treatment. Here we have facilities for 24 hrs emergency management of dental emergencies and faciomaxillary injuries. Smile centre is also attached to other leading hospitals in Kochi city to provide treatment under special medical supervision, including Saraf Hospital, Renai Medicity Hospital, Silverline Hospital, Sree Sudheendra Medical Mission, and Welcare Hospital.
Visiting Consultants
SmileCentre India routinely organizes training workshops for dental implant specialists, which have huge acceptance from well-established implant surgeons in India and abroad. Some of them regularly visit our centre for upgrading their knowledge and skills. Dr Vivek Gaur and Dr Faizur Rahmaan, eminent implantologists and mentors of the IF, are our visiting implantology consultant specialists.
Oral Health Awareness and Education Programs
We organize oral health awareness programs regularly at our centre. We also offer web-based patient education through our exclusive online platform www.OralHealth.in as well as through our Youtube Channel.
Medical Tourism & Dental Vacations
Smile Centre India is attached to reputed hospitals in the city, we will be able to facilitate all kinds of medical treatments, plastic surgery for our clientele including, international patients. We also have tie-ups with reputed Ayurvedic physicians and centres to provide wellness treatments for our patients.
Smile Centre India has a large number of international patients, mainly from the US, Canada, Australia, New Zealand, Singapore, UK and other European countries. As Kerala is famed as a world tourism hub, Smile Centre India has tie-ups with some reputed tourism service provides who take care of the vacation requirements of our dental patients. Our website dentalvacations. in is dedicated to the holiday services for our international patients.