Premchandran Kumar
Arabian Trading Agency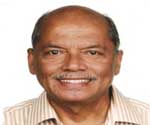 I am back in Dubai after my dental treatment and have already resumed duty. My acquaintances are finding me highly confident in my speaking, laughing and eating. They where curious to know how I achieved it. I ended up explaining in detail about my dental journey of two years about the miserable state in which I was about the full mouth rehabilitation treatment I have undergone and the end result which they could see for themselves. Later on I decided to pen my experiences down and mail it to you so that you could share it with your apprehensive patients how they would have their lives changed for the better. Two years ago, I had a "bombed out dentition" (that was the phrase you used after examining me with the Xrays). I had with wobbly teeth, bleeding gums and mobile bridges. I could never smile, speak or chew confidently. Now, I'm able to have the food I wish to have I'm smiling, speaking and chewing well with my full complement of implant supported fixed teeth. I explained to them how I underwent full mouth rehabilitation with basal implants and to obtain the great set of teeth I have now.
I started losing my natural teeth from my school days and the same story kept repeating all the time. The problems commenced with with dental decay for which dental treatment was undertaken in the standard sequence of dental filling, followed by a root canalling, crowning and within a few years, the tooth went for extraction! At the age of thirty, I came to a state where I had four crowned teeth to take care of the eight missing teeth. For almost ten years, I managed to pull on without major dental issues. However, by the age of 58, I was left with 7 mobile teeth with two bridges fitted onto them. I started worrying because I knew that the mobile pillars along with the bridges would come off any moment. It was at this stage that I started consulting my friends and most of them advised me to go for removable dentures more so because I was already 58 years old. But the problem was I had to wait for about four months to get the dentures as there was the need for healing of the extraction wounds of all the 7 survivors which had to be removed in one shot. I contacted many dentists with a request to advance this period but my request was turned down mercilessly.
I was getting impatient as I knew the worst was going to happen any moment. I started browsing the internet to find solutions and that was when I came to know on the option of dental implants and their advantages. I started contacting dentists who were specialized in dental implants in Dubai. I started consulting them one by one and all of them advised me against undergoing dental implant procedures. The reasons they cited were that I was a chain smoker and a chronic diabetic. My blood pressure and cholesterol levels were also above normal limits. In addition, Xray examination had revealed that I did not have sufficient bone left inside my jaws to fix the implants. If I had to get implants done, I'll need bone grafting procedures which again was fraught with failure due to my smoking habit and diabetic status.
Their quotes, if I were to get the implants done, were also pretty high. I got terribly frustrated.
It was at this time that I found you on the internet and contacted you for advise. You requested me for my OPG Xray and I got it done in Dubai and emailed to you. We started discussing online about the possible solutions in my case. I was given details of the latest developments in dental implants. You gave me a very positive outlook by reassuring me that implant supported bridges will most certainly work in my case in spite of all the negative factors highlighted by other doctors. You explained to me about the procedures in detail and took time to thoroughly answer all my questions with regard to treatment planning, time duration for treatment costs etc. etc.
My treatment started at TheSmileCentre.in, Kochi, with a complete medical checkup under supervision of an expert physician. Once I obtained the medical clearance for the dental implant surgery procedures, the OPG Xray was repeated. A detailed treatment plan was chalked out and discussed with me soon after which the implant surgery commenced. Under local anesthesia, in a quick surgical step, all the three remaining teeth I had in the lower jaw, along with the denture was removed and implants were placed soon after the removal. Impressions were made for the temporary denture in acrylic which was fixed on the implants by afternoon on the same day. Believe me, I walked out of the clinic smiling better than I did in the morning while reporting for the treatment. I must admit when I came in for my initial evaluation the procedure I felt that the procedures would be quite painful. But, to my pleasant surprise, I did not experience much pain during and after the implant surgery procedures.
My upper jaw treatment commenced the very next day. I had difficulties in eating and hence had to live on milk, juices and biscuits for almost a week. Initially my body was not accepting the medications you had prescribed me I had developed nausea and gastric irritation. You altered the medications and I was fine soon.
I returned to Dubai after two weeks. During the next one year, I had minor problems with my temporary dentures due to wrong biting habits which I had over years. I managed to get the problems fixed with by doctor friends in Dubai.
After one year of placing the implants my upper permanent prosthesis was fixed. The lower prosthesis was completed after two years. During this waiting period when I had my metal-acrylic interim prosthesis, my biting patterns stabilized and improved considerably. Prior to the treatment I used to avoid eating out due to my wrong bite and chewing styles. I used to talk with my mouth partially closed. I used to smile without showing my teeth. But now, I'm able to smile, laugh, speak and chew well as much as all other people with natural teeth are able to. I can now eat and talk without my slippery and painful dentures moving around in my mouth. I am delighted with the result and have started to enjoy life much more.
I just wanted to thank you and TheSmileCentre.in family for the outstanding care you provided me during my dental implant procedures. Everyone was nice and accommodating. Thank you again for resolving my dental issues. I would highly recommend such procedures in dental patients who are having constant trouble with their teeth and gums. These procedures will turn out to be a blessing for people who are uncomfortable with removable dentures.
Last, but not the least, JJ INN, the place where you recommended for my accommodation for all my three visits was something very special. Hospitality is their line of business, but this set up stands out. They took extreme care of me and ensured I was provided the best quality food. I am sure that my stay at Kochi on my next visit will be at JJ INN only.
Premchandran Kumar

Wayne Garrard, Perth
Western Australia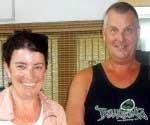 At 54 yrs old I found myself with a complete lack of bite beyond the front. After many extractions things were getting worse as the remaining front teeth were starting to suffer under the load and eating some foods was becoming an issue.Now living in Australia I decided it was time to act and get implants. I was shocked at the massive cost and extended time scale to do the work so decided to look further afield. Over the years I have had dental work done in several countries including India so no country was discounted. A lot of research lead me to discover immediate loading basal implants, these would be fantastic if I could find a suitable dentist. This proved the hardest part, not many Dentists seemed to offer immediate loading implants and those that did where either expensive or did not instil the confidence that would be required for such a big undertaking.
Finally I hit upon the Smile Centre website and Dr Pillai whom I contacted as soon as practical. I received a swift e-mail response from Dr Pillai, a time was arranged and I was soon talking to Dr Pillai over Skype, face to face discussing my problems and the options available. An OPG x-ray was forwarded to Dr Pillai who was then able to offer a treatment plan and a quote for me to consider. Due to my work commitments, it would be a while before I could get a few weeks off to get to India however Dr Pillai assured he would be able to complete everything within a week. We agreed a date and all was booked.
Once at the surgery in Cochin everything was discussed again in a reassuring, informative and leisurely manner. More 3D x-rays done then treatment started. At the end of day one I had the lower left and right implants completed. After more consultations having benefit of 3D X-rays it was agreed additional work to that already planned would be beneficial in the long run for the left upper area. Day 2 and the left upper implants were complete. A total of 10 implants, 4 extractions and one crown cap removed. Day 3 and the lower Teeth prosthetics were ready to fit, the right was fine the left needed more adjustment at the lab. By 13.30 on day 4 all teeth were fitted adjusted and complete. I am sure some might consider this all a bit full on and would like a more leisurely pace. It does however demonstrate that its possible to get implants in a short space of time as Dr Pillai promised. There were times of minor discomfort but no more than having a filling done with anaesthetic. All the slightly uncomfortable bits were done and dusted in the first two days.
The Surgery has nice private area available for waiting between treatments, My wife was with me and was able to access wi-fi and read in comfort. She was also included in all the consultations regarding the work being done. All of the staff were friendly caring and attentive, offering refreshments whist we waited.
Dr Pillai instils immediate confidence and obvious pride in his work. At every step we were kept completely informed and up to date on progress. I cannot recommend the whole Smile Centre experience highly enough. The whole object of the exercise was to get my bite back and as promised this was achieved in a short period, I am delighted with the result and the overall experience.
Even with such a short period in Cochin we still had time for a few sightseeing trips to the local sights and managed a half day trip into the backwaters.
Now back home and after a couple of weeks for things to settle down I am again able to eat whatever I want with absolute confidence.
Wayne Garrard, Perth

Fathima Ali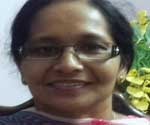 I am a 50 year old housewife who lost her first tooth at the age of 29. By 45, I had lost about 10-15 of my teeth. I used to experience pain and bleeding of gums while brushing. My dentist told me that my condition was hereditary and severe. Back then, immediate loading implants weren't heard of and the dentists suggested methods like grafting and sinus lifts which sounded extremely complicated. I was reluctant to go for these options and suffered silently for years until i chanced across Dr. Prasanth Pillai's article in the newspaper about the Swiss Implantologist Dr. Stefan Ihde's innovative method of Immediate loading Basal implants which were supposedly simple and painless. This was quite a surprise since the treatment duration was only a few weeks at the most and there was no bone grafting, sinus lifts etc. involved.
Now after getting implants on both my jaws I can assure anyone that it is worth it. I am able to enjoy my life more than ever. I can have food of my choice and more importantly I can chew the food I eat, smile confidently, don't have to be shy in public, not bother about my dentures falling off and a lot of other benefits!
In my opinion, Dr. Prasanth and his team did an excellent work and were really helpful and responsible throughout the entire procedure. I am forever indebted to Dr. Prasanth and his co-workers and would guarantee anyone in need of dental implants that Smile Center is the best place to go.
Please feel free to contact me in case of any kind of clarifications you may need to make.
Email Id: fathima2ali@gmail.com
Fathima Ali

Abraham Mathew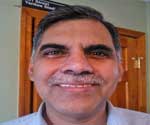 I am writing to express my sincere gratitude for the superior care and excellent work I received while I was undergoing dental implant treatment and surgery with you. I especially appreciate the straight forward way in which you communicated the details of the implant procAbraham Mathew USAess. You and your staff treated me with sincere care throughout the process. I wish you, your wife, your children and your staff a happy Christmas and prosperous New Year 2014. My experience is detailed below.
I am originally from Kerala, India, 57 years old and live in USA since 1985. I was having dental problems for the past 10 years. I had severe bone loss, resulting gum inflammation and pain. I received a 6 teeth bridge in the front lower jaw 8 years ago. But all the remaining teeth were getting loose and painful and I could not chew or eat any hard food. My dentist told me that I had gum infections which will affect my health adversely and that the only options I had were to get removable dentures or implant supported fixed teeth as soon as possible.
I went to a reputed implant center in USA. They recommended full mouth implants. They said I needed bone grafting and sinus lifts before doing the implants. I have to wait 4 to 6 months after extraction and surgery to get the implants. It was very expensive also. So I researched the internet for a better option. I found a good place in India which was less expensive. But the procedure was the same. I was still apprehensive about bone grafting and sinus lifts and waiting months for the implants.
That was when I came across "The Smile Centre". I realized Smile Centre had everything I wished for. I read the testimonials of other people who received treatment there. I emailed Dr. Prasanth my details. I forwarded my X Rays to him and discussed with him about my problems over Skype several times. He assured me that I can get basal implants with immediate fixation of teeth (immediate loading) without any kind of bone grafting or sinus lifts. I didn't have to wait months with discomfort before getting the my fixed teeth! He explained the details of the process and the associated costs. I forwarded the details he gave me to my niece who is a dentist and she also agreed that this is the best option I could go for.
Dr. Prasanth also gave me information on places close to the clinic where I could stay safely and comfortably. Dr. Prasanth always replies to emails promptly within hours.
I went to Cochin on the 14th and finally met up with Dr. Prasanth. Since I had infection, he gave me antibiotics. He performed extractions and implantation of the lower jaw on the 16th under local anesthesia. I was very surprised that it was not painful at all. He did the same for upper jaw on the 18th. A few times I was sent to get specialized X Rays and Mr. Karthik, the clinic PRO, accompanied me each time. I had a open bite problem by which the lower and upper teeth did not make contact in the front. When the implant procedures were completed and the teeth fixed, this problem was also solved. It took a few weeks for my mouth to adjust to this. Now my teeth looks great.
I went to the clinic every day to for checkup and minor adjustments. Sometimes I had to wait in the balcony upstairs for a few hours between procedures. It was nice there and there was WiFi connection available. My mother had accompanied me to the clinic on these days and the staff took good care of her.
For about 2 weeks, we stayed comfortably at JJ Inn which was recommended by Dr. Prasanth. I could get to the clinic from there in less than10 minutes by auto-rickshaw and 20 minutes by walk. On October 26th I went to my ancestral home in Kerala with my mother. For the next two weeks on certain days I took the train to Kochi to see Dr. Prasanth, for bite adjustments. It was easy since the clinc is close to the railway station. The last day I visited the clinic was Nov 8th. Thus my full mouth implant supported fixed teeth procedures was completed within three weeks without any problems. I am completely satisfied with the treatment that I underwent at The Smile Centre.
I returned to USA on Nov 14th. Now it is one month after the treatment procedures and I feel very good about it. I can eat almost anything and I no longer have gum pain or bad breath. My mouth feels fresh all the time. I will be going back after one year to get the permanent ceramic crowns. I am very thankful to Dr. Prasanth Pillai, Dr. Sreeja Pillai and all the staff. Unlike dental centers in USA they give personal care and attention to you.
I will recommend "The Smile Centre" and Dr.Prasanth Pillai to any one who is in need of dental implants without any hesitation. "The Smile Centre" and Dr. Prasanth are the best. People who wish to contact me directly for more information on my experiences are welcome to do so via email. My email id: sunnym8110@live.com .
Abraham Mathew

Sunder & Sunita Mansukhani
Dubai
Our experience "At The Smile Centre Kochin".
I have no words to thank Dr. Prashant Pillai, his wife and his staff at the clinic.
My journey to Cochin began on the 27th of October 2013. I found Dr. Prashant on the website n felt more confident after speaking to him on Skype.
I am 71 years old n my wife is 68 years but both of us, with the exception of our dental problem enjoyed good health without any complications. I had a bridge on my lower jaw which stood on one tooth and the upper jaw I had 5 teeth which all shaking, with the result I could not eat my food properly nor could I brush my teeth, and would not dare to smile. This agony persisted for two years. Even my personal dentist in Dubai gave up on me and said either you wear dentures or if you want to smile permanently go for implants.
I then decided to go to Cochin and get this job done through Dr. Prashant Pillai.
I entered his clinic at The Smile Centre on the 28th of October and left for Dubai on 7th November. Within these 10 days Dr. Prashant implanted 22 titanium basal implants, 12 on the upper jaw and 10 on the lower jaw. I did not feel a thing as it was done by local anesthesia and my wife had 4 implants on her lower jaw. On completion I realized I should have done this 2 years back as life is too short to enjoy these few years we have left in comfort. We can now smile confidently, brush our teeth without fear, eat what we like and lead a normal life.
I would sincerely like to thank Dr. Prashant for making this possible for us. We look forward to seeing him next year for a general check-up.
I strongly recommend anyone with a serious dental problem to The Smile Centre Cochin and Dr. Prashant Pallai will solve all your problems. If you want to know more about the centre please go to their website or contact us on P. O. Box 77840, Dubai – U.A.E. Tel. 0097143469105, Mob. 00971504542135.
A Poem In Appreciation For The Smile Centre, Kochi
How important are your teeth to you,
Is realised by a very few
Until you cannot brush, eat or smile
Even for just a little while
You then start looking for that day
Asking yourself this question
Will I be able to brush, eat and smile someday?
Yes I promise you this with confidence
Cause I've been through it all one day
Dr. Prashant and his Smile Centre has in abundance
Smiles that could come your way.

Especially written by Mr. Sunder Mansukhani
Sunder & Sunita Mansukhani