Annamma Varkey
USA
It is with sincere appreciation and profound joy that I am writing to thank you for the excellent dental implant work that you performed on me. My 3 dental implants feel just like my regular teeth and I cannot tell the difference. I live in the United States, and when I was informed by my American dentist that I needed implants, I started researching about them. After hearing about the high costs of implants in the U.S., I decided to expand my research abroad. I spoke to several relatives and was given the name of the Smile Centre. After reviewing your website and reading about your experience performing implants, I decided to email you for further details.
Through the course of our emails, I was able to realize how knowledgeable you were about dental implants and how you put patient safety as your top priority. I wanted some more assurance before I decided to have implants, so I read your testimonials from real patients and contacted one of your patients, Mr. Menon. After speaking to him and hearing his excellent recommendation, I decided to have the implant work done.
A few weeks later when I arrived in India, I went to your clinic for the initial consultation. I was very impressed by your modern facilities and the diligence you provided in making sure I was completely comfortable and had all my questions answered before you performed any work. The work performed was well done along with the cost being very reasonable. You and your team were very helpful. I want to thank you once again for the excellent work that you did on my teeth and wanted to let you know that I will recommend you to all of my friends and relatives that need any sort of complex dental work.
Please feel free to give out my email address, providence204@comcast.net, to anyone wanting further information.
Sincerely,
Annamma Varkey

Alan Lunt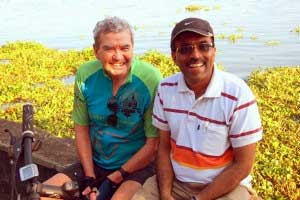 What made you choose India and how did you hear about The Smile Centre.in?
I had to be treated at a hospital while on a cycle tour of India in 2011, and was very impressed with the level of care that I received. So when I needed implants to improve my awful mouth, and found it was going to cost far more than I could afford in Canada, I researched for Indian alternatives on the internet. I was most impressed by Dr Pillai's credentials and the implant technology he was using.
After you contacted Dr. Prasanth, what finally convinced you to come down to Kerala for your treatment?
I sent xrays and photo's to Dr Pillai and he gave me a rough estimate of cost and time. I was even more impressed, so I decided it was worth whatever risk was involved.
And once you came down, what was your experience from when you arrived?
The experience was fantastic from the start. First, a full physical checkup at a hospital to ensure I had no underlying problems. On the first morning I had four overgrown teeth extracted, immediately replaced by four implants followed by a temporary bridge. This took 1 1/2 hrs and I felt no pain. I also ate dinner that evening with no problems.
Subsequent treatments gave me a further 12 implants and reworked my whole mouth, and all this took place over only10 days. Incredible! I returned in 2012, after my mouth had stabilised, and had my final bridges fitted over two weeks. Again the care, attention to detail, and hygene were at a level way beyond anything I have experienced in England or Canada.
Has it been more of a holiday than a time for treatment? What were the highlights of your stay here?
Treatment was first and foremost, but Kerala is a beautiful and exotic place and I managed to go kayaking on the famous backwaters plus a number of bike rides (laterly on Dr Pillai's bicycle which he lent me). Also, I went to some cultural events which were wonderful. During the total of 11 weeks I have now spent in India I have come to love the country and its people.
Has it been value for money?
Again the word seems to be incredible. If I count in my total costs it would have been about seven times more expensive in Canada. Then add in superior techniques, no bone grafts or sinus lifts, and much faster treatment.
Would you recommend TheSmileCentre.in to others?
Absolutely and unreservedly.
How would you evaluate the dental treatment facilities in Canada in comparison with what you experienced in India?
I believe that Canadian dentistry is stuck in the past. They use old technology and don't want to change because they make a very high standard of living doing what they do. After all, if you can do four extractions and four implants plus a bridge in 1 1/2 hours you can't very well charge $20,000 for it!
Anything you want to add / suggest / commend / critique?
I can only say that I can't imagine getting better care or better dentistry than I recieved, certainly for what it cost me. I now have a full set of splendid teeth for the first time since I was in my early twenties. I can eat anything I want and food now tastes great again.
My heartfelt thanks for everything you have done for me Prasanth and Sreeja.
Alan Lunt

Vijayan K Menon
USA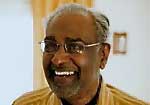 I was born and brought up in Kerala, India. I came to United states in 1961 age of 21. Now I am a United states citizen and a permanent resident of Hayward, California, USA. Professionally speaking, I am a Aeronautical Engineer and worked for United Airlines Engineering department in San Francisco, California till 2002 and retired there after.
From my early days I was confronted with severe dental problems. Many of my upper and lower teeth were extracted and fitted with dental partial. Lately my upper canine was found very mobile, associated with abscess. Further dental X'ray vividly revealed that both upper two remaining permanent teeth must be removed. I started looking for a suitable dental clinic in Hayward, California and in Kerala, India to do implants.
I looked into many dental clinics here in California. One thing immediately brought to my attention is that Implants are very expensive and few Doctors are doing implants locally. Implants are not covered by any dental Insurance because it is categorized as a cosmetic surgery.
My second choice was Kerala, India. My birth place. But I had heard some horrific stories about unsafe conditions, inexperienced doctors and lack of modern equipment and so on. So I decided to go to Kerala (in 2009) and talk to several dentists person to person and take a look at their facilities. My youngest brother who is a Doctor in General Medicine referred me to Dr. Prasanth Pillai, Oro-Maxillofacial Surgeon & Implantologist, Owner and founder of The Smile Centre.In and I went ahead with treatment under him.
I am very impressed with his new Kadavanthra, Kochi facility with all modern equipments, excellent sanitary conditions, cleanness, most courteous and experienced staff. The cost for implants are more affordable. He gave special discounts for foreigners. This remarkably well known clinic is located in the center of the city and a quite business neighbourhood of Ernakulam. Easy access from International Airport and freeways. It is very easy to locate for myself being a foreigner.
In 2009, since I was not sure about his dental work, I decided to do a single implant in lower jaw. Then I returned to states. Two years later I realized he is a good implantologist and most experienced Doctor in Kerala, India. After two years of email communications I decided to do get complete implants done on my upper jaw on August 2012 so that I could quit wearing dentures and get fixed teeth.
Periodontic and endodontic specialist evaluation had been done to assess conservative treatment options for the existing teeth, under the guidance of Dr. Pillai. However, conservative options were ruled out due to the severity in bone loss. The requirement for extractions of the teeth and replacement with the help of implant supported prosthesis was confirmed. We completed the entire process within a matter of 2 weeks in Aug. 2012 (immediate loading of implants, as Dr. Pillai put it has a great advantage that the prosthesis is fixed within 3 days period after implantation, very much unlike conventional implants which require a minimum waiting period of 3 months)
Now I am back in California. I have no problem with implants what so ever. I am extremely happy with Dr. Ptasanth's work and professionalism. If any one of you reading this article or plan for future implants I wholeheartedly recommend Dr. Prasanth Pillai. If you want any further information please contact me on my email address. Vijayankmenon@gmail.com
I could not emphasize more that It is very important to do implants specially in a foreign country with whom you can trust and most experienced. You can count on Dr.Prasanth Pillai 100%. There is no doubt in my mind.
Thank you
Sincerely
Vijayan K Menon

Rod Murray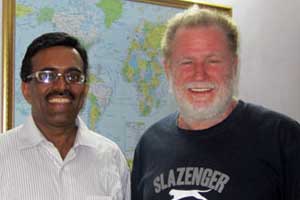 Can I firstly thank you for extending to me an excellence in dental treatment in a time frame unheard of in Australia. Congratulations that you have established a surgery in Kochi with world's best practice facilities and on the high level of professionalism from your team - both staff and consultants. In fact I was quite amazed at how you can call for an attending specialist with less than 24 hours notice, something that would be weeks where I come from. I would also like to thank you for the hospitality afforded me by yourself, your wife and fellow dentist, Dr. Shreeda and Kartich, your "Logistics Assistant" for helping out with those unforeseen needs not normally associated with being a dental patient but as a Dental Tourism patient these things can be difficult without local knowledge and help.
Can I also use this opportunity to pass on my experiences as a recommendation for your clinic and for undertaking a Dental Holiday.
I came to Dr. Prasanth's clinic on a recommendation and I would say to those considering joining the dental tourism wave but who are a little reticent because of the naysayers warnings of hygiene and third world surgery conditions that the first thing to do is leave all preconceptions behind. If you walk to the clinic for your first appointment as I did or throw yourself into the experience travelling by auto-rickshaw, you find yourself travelling along a two lane road that Indian drivers somehow manage to make into a five lane road, where there are generally no footpaths, just a dusty road shoulder to walk along and the traffic passing by is in absolute chaos with horns beeping constantly. Buildings and homes are all crammed together and many are dilapidated and what western eyes would perceive as un-kept, - and yes, there is rubbish by the side of the road. At this stage you may be thinking "what have I got myself into?"
But when you arrive at the clinic it's a modest single story building set back from the road and partially obscured by vegetation. When you enter the surgery you now see just how different things are in Kochi compared to the cities of a modern western society because what you find is a modern, up to date surgery fitted out with the latest European dental equipment and after meeting with Dr. Prasanth you realise you are under the care of highly qualified, experienced professionals.
And that's how it is with both dental and medical facilities in Kochi, they're located in places that are completely unexpected and almost a bit odd from our perspective but on the inside they're just as well equipped as we are accustomed to and attended by qualified professionals.
It will also amaze you at just how quickly and efficiently they get things done. My first appointment with Dr. Prasanth was at 10:30am. By the end of the day I had had a preliminary examination, been taken off to a local private hospital for a general checkup, straight on to chest X-ray and blood pathology then OPG dental x-ray. All of this as a precautionary check before beginning the dental procedures.
Finally, you are also on a holiday and there is plenty of opportunity between appointments to get out on the streets and experience the challenge of life in a southern Indian city. I found it totally engrossing and I won't pre-empt the experience other than with a tongue in cheek cautionary note. As a pedestrian you're at the bottom of the pecking order. There's the irony of the occasional pedestrian crossing where there is no way in the world that anyone is going to stop for you to cross and when you're standing at an intersection with traffic lights, waiting for the green man - when he pops up that doesn't mean you can step out onto the road, it just means you might have a 50% chance of finding a way across whereas when the red man is up, you have no chance.
And by the way, when you're out walking and you come across that scrawny stray dog lying lifeless at the edge of the road with a cacophony of traffic whizzing by just half a metre from his nose? He's not dead, - just sleeping.
Rod Murray

Vivienne
England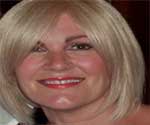 Dental treatment in the UK and USA is often carried out in clinics that look more like 5 star hotels these days and have a price tag to match. The hi-tech equipment and state of the art surgeries do not always guarantee expert treatment however. I decided to take advantage of my holiday to Kerala and get some overdue dental work done and save some money in the process. I went blind on an internet search – no personal recommendation and decided to pay a visit to Dr.Prasanth Pillai at The Smile Centre.
I certainly have no regrets and I would definitely recommend Dr. Pillai and I am sure I will get to visit again one day.Yes the clinic situation is different but the patient care, attention to detail and expertise is superior to most dentists I have visited (in UK, USA and Thailand!).
Once you have the trust you see beyond the different environment and I could not fault the treatment and service.
In addition to the expertise Dr. Pillai and his wife (they work as a team) provided they are extremely personable and made the visits an enjoyable sociable event – from discussions about his positive thinking website, they even provided an office for my niece to do her college work in whilst waiting for me en route to the airport.
I rate the service and treatment 5 star – and with the price of a crown replacement at £200 v £500 in the UK I used the money I saved to stay in a luxury 5 star hotel.
Vivienne