Said Algahaffi
Oman
We came from Oman to kochi last month to see dr.prasnath pillai to make dental implant this was my second visit..we are me and my aunt..the dr do great work for us.dental implants ,crowns.the process was smooth and organized and clear.. without any pain.
Now after 2 months of our treatment i can say smile center India is great place for dental implants with good quality materials reasonable price ,good and helpful team.
Also i don't want to forget that dr in last day arrange taxi for us to take us to avoid delay our flight thanks not enough for him.
Best regards
Said Algahaffi

James P.
Cologne, Germany
In January 2020 I had a full mouth implantation at Smile Centre by Dr, Prasanth Pillai. I am really happy and satisfied with the result. The best thing I felt about Dr, Prasanth was the way he interacts with his patients. From the very begining onwards I felt that I was in good hands. I do thank Dr. Prsanth and his entire team for the wonderful service at Smile Centre.I would like to recomend Dr. Prasanth to all who likes to have dental treatments especially implantation by some one who knows his hand work perfectly.
James P.

Trevor and Leanne Jordan
Perth Western Australia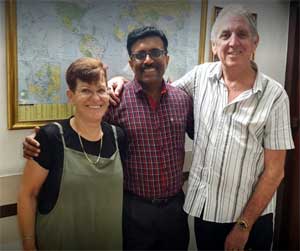 This amazing German trained Indian dentist is a pioneer and a legend in Asia. Dr Pillai and his remarkable team have completed over 8,500 immediate load dental implants with a success rate of 96%, with not one gram of infill gum surgery. My nine implants, 12 crowns, 6 fillings, 2 extractions, 1 root canal and laser whitening were complete over an 18-day period. Compared this with Australia, one-year with major gum surgery and 5 times the price. If this was a cricket match, India won by 10 wickets.
Both Leanne and I have no hesitation in the quality service provided by Dr Pillai and his team, and we are recommending TheSmileCentre.in as the go to dental surgery in Asia.
Kind regards to Dr Pillai and his team
Trevor and Leanne Jordan

Beryl Doiron
Prince Edward Island, Canada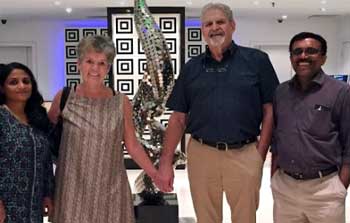 Thank-you Dr. Pillai,
After reading about the excellent dental work that an acquaintance of mine had done at Dr. Prasanth Pillai's Dental Clinic in Kochi, India, I found myself giving it some thought to see if my dental concerns could be answered.
Just to give you a bit of history. When I was in my teen years, I had a number of extractions, subsequently replaced with 4 bridges (2 upper and 2 lower). Of course there comes a time when bridges have done their job and then my only option was implants.
All in all, at the Smile Clinic, I had one extraction, ten implants, and all upper and lower front teeth crowned in 2018. I then made a second trip the following year as the prosthesis that were installed on my implants were temporary for one year during the healing process. So now I have permanent prosthesis installed and all is well. Dr. Pillai worked to ensure that my bite was 100% before I left his clinic and I have to say it certainly is – I don't have a bit of discomfort, my bite is perfect, I sleep like a baby and all thanks to Dr. Pillai and his wonderful team. I might add that the cost of having this work done in India was considerably cheaper than it would have been in Canada.
The Smile Centre is a wonderful place – very friendly staff. On numerous occasions Dr. Pillai took, what I felt was extra time, to explain in great detail the procedures and to make sure that I was comfortable with every phase of the work.
During our many visits to the Smile Centre, we met dental patients from all over the world – all there for the same reason – to walk out with a Perfect Smile.
Beryl Doiron

Murray Lane
Australia
I can't say enough in praise of Dr Pillai both as a person and as a dental professional.
I first received substantial dental treatment from the doctor in 2014 (see testimonial) and could not have been happier with the result. Unfortunately complications arose recently (2019) necessitating my return to Kerala so corrective work could be undertaken.
I did not think it possible but my teeth now look better than they did after my first treatment and all work was completed under warranty!!
I think that says it all. A very genuine person running a very professional practice. Thank-you again Prasanth.
PS. I hope you take me up on the offer to stay when you and family visit Australia.
Murray Lane