Dr. Jana Tothova, PhD, Naturopath & Psychologist
Prague, Czech Republic, Nov. 2013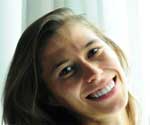 In September 2013 I received complex dental treatment by Doctor Prasanth Pillai at Smile Centre in Kochi, India, consisting of a complete restoration of molar region including 8 implants, 17 crowns, as well as a few extractions and root canal therapies, and it is my pleasure to provide a review of this amazing and highly professional work.
Before I discovered Dr Pillai's work at the Smile Centre in Kochi, my teeth had suffered for many years because of the old amalgam fillings and although I was only 31 years old, I was already missing 4 teeth in molar region and the rest needed crowns and implants. I had spent about six months researching various treatment options, looking at different dental clinics and communicating with dentists from all over the world including Central America, Europe, Australia, India and Thailand. Since I required such an extensive treatment, many regarded my case as untreatable or quoted about AUD$25 000 and 1-2 years as the overall treatment time. Traditional implants required many treatment steps lasting up to 2 years and were consisting of many unnecessary procedures such as bone graft or sinus lift. They also required to wait about 3 months after fresh extractions before placing the implants and only enabled loading them with crowns after 6-9 months of healing.
I came across with the concept of basal implantology which not only enabled placing the implants immediately after extractions and loading them with crowns almost immediately, and also avoided other invasive surgical procedures. While most of the dentists who were familiar with this new approach in implantology said I'm not the right candidate for the immediate implants, Dr. Pillai reassured me there's no problem with applying them in my case. My communication with Dr Pillai started about 5 months prior to my arrival and we gradually exchanged about 50 emails regarding all details of the treatment. He always responded within a few hours and clarified any doubts I had. I myself work as a Natural Medicine practitioner and have to say that basal implantology not only saves a patient a lot of time, money, pain and surgical procedures, but anatomically and functionally makes much more sense than traditional implants.
The price quoted for the whole treatment was very reasonable since in the western countries it would normally only cover about 6 crowns. I decided to travel to Kochi with my partner in September 2013 for 4 weeks. We stayed in comfortable 2-bedroom apartmentin Mercy Villa from where it took us 20 minutes to walk to the clinic. My decision to undergo such a complex restoration of all my back teeth in India was still causing a few doubts. However from the first moment we arrived to the clinic the staff and Dr. Pillai have treated us as a family and ensured we feel there as comfortable as possible. He has 2 kids and a beautiful wife who is also a dentist working at the clinic and helped prepare my teeth for the final crowns. We were at the clinic almost every day for 4 weeks and since the treatment also required many hours of waiting in between procedures, they dedicated for us the whole room upstairs with WIFI access for resting and work.
All procedures went without any complications and to my huge surprise placing the implants was the least problematic of all of them. Having experienced many dentists from Europe as well as Australia, the most astonishing part of the treatment was to experience the kindness and the level of professional skills of all the staff at the Smile Centre. We'd also never had any doubts about hygiene or cleanness of the clinic.
I took a risk by insisting on placing the permanent zirconia crowns on the 2 weeks old implants placed soon after extractions (usual approach is to place temporary crowns for about 6-12 months) and although there is a slight chance that I will have to replace them in the future with new crowns because of the natural gum changes after all the procedures, I don't regret my decision. The clinic has an access to one of the biggest and the most modern world-class labs in Asia and can offer you the most beautiful work of restorative dentistry using most of the materials available today. I was also able to fully use all my new teeth after about a week. It's been 3 months since the operations and I haven't had any issues with the implants whatsoever.
My visit of the Smile Centre in Kochi not only restored my dental health and other emotional aspects associated with any long-term dental problems. I discovered the professional dental clinic practicing the revolutionary basal implantology, with very nice staff and an access to a world class lab. Last but not least we got to know Dr. Pillai and his wife, one of the kindest, most knowledgeable and deeply spiritual people we've met so far, with an inspirationally positive approach to work and life in general who we are proud to be friends with.
Dr. Jana Tothova, PhD, Naturopath & Psychologist

MurrayLane
I have just recently returned from Kochi to Australia after having received dental implantology treatment from Dr Pillai. I am now sporting a very confident, natural looking smile, which I am more than pleased about and continues to receive compliments from family, friends and work associates.
I am more than happy to be able to write this testimonial. Firstly, as a way of publicly thanking Prasanth for all that he has done for me, but also as it allows me the opportunity to possibly assist fellow Australians, who, like me months ago, are gleaning through international websites in a quest to find the best destination for major dental treatment.
I see my excursion to Kochi, which I call my dental project, as a huge success. The project itself, from initial contact to my return home, took only six weeks which included getting and forwarding an OPG x-ray and obtaining my Indian Visa.
Contact was exactly as described on the web site - email of OPG x-ray, Skype conversation to talk through a dental plan and comparable case studies, followed by a quote for services within hours.
Accommodation was not an issue, with plenty to be had nearby. I chose to stay, with the assistance of Prasanth, at an Inn which was modest, yet very clean and comfortable, and within walking distance (which I did a few times) from the surgery.
The level of attention I received, both personally and as a patient, could not have been better. Prasanth has gathered together a team of dental specialists and technicians to ensure that patients get the very best of care through every stage of the treatment plan. The Surgery has a very warm working environment and I found myself fitting in very easily.
When it comes to the financial aspect of the project, I know I got great value, both in terms of cost and quality of service. Even after consideration of travel and accommodation expenses, I am confident I could not have done any better, certainly not in Australia, but also not in other Asian destinations more commonly sought out by Australians.
It was not all work. There was plenty of time for tourism and shopping which was too much to list here. Prasanth, being very proud of his country and culture, was always putting options in front of me to ensure I received a broad taste of India before returning home.
I stated earlier that I saw my dental project as a huge success. I wish I could take more credit, but in reality I only had to get myself to India and that first 10.30am appointment. After that all the systems, professional network and work place culture that Prasanth has put in place took care of the rest.
Of course, there is a business element to all of this, as well there should be, but right from the outset I found myself dealing with a competent, caring professional, looking to form a partnership to see my project through.
I have no hesitation in recommending Dr Prasanth Pillai to anyone in need of his dental services.
MurrayLane

Alison S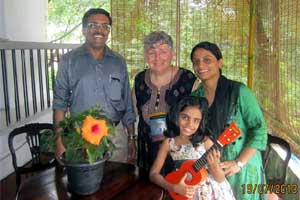 Thank you for your support and caring while I was at your clinic.
It was great to have assistance when I arrived to get myself orientated and I will never forget my first bike ride! I appreciated the explanations of my options and treatment.
I found the dental challenges at times confronting and, at the same time, every effort was made to ease my concerns.
It is wise for all parties to consider the language and differences in cultural practices as patience and time for clarification helps things run smoothly. eg Knowing when it is lunch break and protocols for asking questions etc
I was impressed with the time taken to do some relaxing, social things together and options to travel or see Kochi when I was free.
Although we fitted in a lot of work, overall I was extremely pleased to be able to get the work done, in amiable surrounds at a price I could afford. Well done by all of us!
Alison S

Antony kavalam
On the outset I wish to extend my sincere appreciation and thanks for the excellent dental implant work you have done on my upper jaw on 2. August 2013 at your clinic. My 9 dental implants with 2 crowns feel just like my regular teeth and I cannot tell the difference. I would also like to thank you for the hospitality extended to me by yourself, and your fellow dentists. Meantime I wish to share my heartfelt thanks to Dr. Harshakumar, who recommended me to consult your clinic for the latest basal implants with immediate loading instead of conventional implants which would have required several months of treatment for the same. Now I am absolutely satisfied with the excellent quality implants with which I can now chew and bite and I am grateful for my excellent and authentic smile. I can say that the work done by Dr Prasanth and his team is truly amazing.
The work performed at Dr.Prasanth's "Smile Centre" was so well done so that it not only just given me the confidence to smile, but also given me the genuine poise to laugh loudly with mouth wide open without being ashamed. I want to thank you once again for the fantastic work that you did to my teeth and want to let you know that I will recommend you to all my friends and relatives that looking for any aesthetic dentistry.
I once again thank you and your team for the marvellous job done with my dental implants. Kudos to you Dr. Prasanth Pillai. Without doubt I will promote your clinic and your professionalism to everyone I meet. If anyone wants any further information please contact me on my email address antony.kavalam@yahoo.com
Antony kavalam
Lawrence Rae
Canada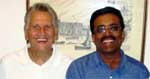 Just a note to thank you again for my great, and now authentic smile. No longer do I slip my dentures out to make sure the tomato or raspberry seeds won't injure me. No longer do I have to put up with the pain of the uncovered lingual nerves every time I eat something that dislodges the ever mobile lower plate. Instead, I smile and laugh and sing without any worry that the congregants in the front row of the church might become the fielders for my ejected denture and I am now becoming quite adept with my toothbrush cleaning solidly mounted teeth held in place by 24 custom fitted basal implants. No pain, no embarrassment and a bite that even cuts through lettuce. Roseanne is doubly thankful. I can kiss her again with a fully shaped and firm mouth!
Thank you, Prasanth, for everything. God Bless you, your family & your team
Lawrence Rae