Mathew Keecheril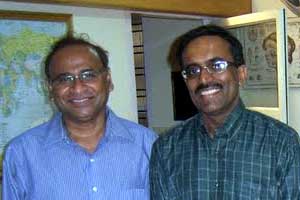 Thank you for the excellent work you did. The implant and the crowns are perfect. I have had no problems with bite or any other issues. You and your staff are truly professionals and I appreciated all the courtesy and care I received. I hope to see you again on my next visit from the USA to India. – Mike Buus, USA. It seemed a brave decision to travel to India to get implants. From the beginning it was a positive experience. Dr Prasanth and his team are welcoming and very competent I had a lot more work done than I had originally intended… more implants and many crowns and I could not be happier with the outcome. I look forward to going back to complete the job next year , very highly recommended. – Wayne Green, New Zealand.Thank you for your call the other day and also this wonderful greetings!!!!! In fact, for the past few weeks, almost every day I had been thinking of writing to you, but for my hectic schedule at work after my return, somehow it did not happen.
Mat-KeecherilI am doing great now with the Implants and the Bridge. The mild discomfort and pain I had subsided after the initial couple of weeks. Now I feel absolutely fine. The bridge has come out so good that everybody feels it looks on me better than my original ones. My wife was saying the other day that if ever she has to get any dental procedures done, she would prefer to get it done at your place.
I need to appreciate you and your team there for doing such a wonderful job. It was worth making this visit to India. I was a bit apprehensive when I started from here, but when I came over and saw your facilities there and heard you explain me the procedures in detail, I was quite comfortable. Your professionalism, skill set, expertise, respect for time, no-compromise on the quality of work and so easy and friendly attitude had made all procedures a wonderful experience for me and it really showed up with the final results – My wonderful new look.
Also, need to mention that you have a wonderful team out there especially – Dr. Midhun, Dr. Madhu, Dr. Sreeja and the other staff who were assisting in the procedures and well as those managing the Reception Desk.
I, on behalf of my family, wish you, your family and your wonderful team there, Merry Christmas and an extremely happy and prosperous New year, 2011. Also, convey my love and regards to your Son and your sweet little daughter (She is shaping up to step into your shoes from now on…)
Good Luck with everything. Continue your great service. I once again thank you for the great job done with my dental procedures.
Best wishes and Regards
Mathew Keecheril

Anish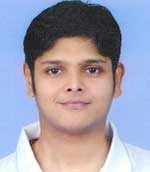 I came to know about Dr.Prasanth Pillai from an article in Reader's Digest. I was initially quite apprehensive of going to a dentist because of a traumatic experience I had during my childhood and from that day on they were to me nothing but purveyors of pain!
Even so, avoiding treatment on that account would have lead to more serious problems down the road. So, gathering all my courage and with the help of some healthy encouragement from some kind souls, I decided to pay Pramod clinic a visit, expecting nothing less than excruciating pain and screaming patients running around with the "Men in White" right behind them with the tools and the license to inflict pain! Legally!!! Can you believe that?!!!
But what I found was just the opposite! The clinic has a very relaxed atmosphere and there were no screaming patients! Imagine my surprise!
Thankfully, now I know I made the right decision. I told the doctor about my fear of dentists and he put me at ease and told me not to worry and that they would try and make the dental procedures as pain-free as possible. Looking back, I can say that he kept his promise! And my fear of dentists has been assuaged to a great extent – thanks to Dr.Prasanth and his team, esp. his wife and colleague, Dr.Sreeja, who was very considerate and explained every procedure in detail before going through with it and also patiently answered all the questions I had regarding the treatment.
To conclude, I would like to say, though the traditional wisdom which says – "Prevention is better than cure!" still holds true, if you are ever in need of dental treatment, due to whatever reason, you know you can count on Dr.Prasanth, Dr.Sreeja and the whole team at Pramod Clinic!
Wishing you good health, joy and peace.
Ever yours in the Lord,
Best wishes and Regards
Anish

Rachna Choudhury
I am very satisfied by excellent quality work done by Dr. Prasanth and his Clinic team on my teeth. All the junior Drs are also excellent in their work. Twelve of my teeth have been capped (crowned) in just three sittings but I have had no pain or discomfort. Dr. Prasanth and his wife are excellent doctors. He is promptly present whenever the appointment is given and has always finished the dental work well ahead of the scheduled dates.
Best wishes and Regards
Rachna Choudhury
Andrew & Judith McKinley
Canada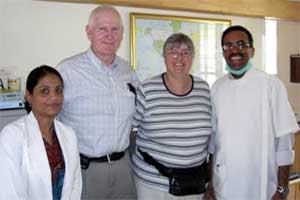 Our dental experience at this clinic surpassed all of our expectations. The staff were warm and friendly and put us at ease. Having a dental phobia, I was really frightened. Dr. Pillai explained each procedure very well and promised me a pain free treatment. True to his word my dental experience was pain free. I was very impressed with the attention to detail. For example, he had us have blood work done prior to any treatment and when a root canal was needed he called in an endodontist. He prescribed antibiotics and also gave me B complex vitimans to prevent a yeast infection. I had never heard of giving B Complex vitamins for this reason. Coming from Canada we were also worried about all equipment being properly sterilized. Everything in this clinic was spotless and met the highest standards. My husband, Andrew, is also very pleased with the entire experience and we both share the feeling of having been in the care of the most pleasant and caring professionals. It will be very easy to recommend Dr. Pillai and his clinic after having had such a positive experience.
My only regret is that we live on thousands of miles away so I will not be able to return for regular checkups.
I will definitely be promoting this clinic to any one I meet who needs extensive dental work.
Best wishes and Regards
Andrew & Judith McKinley

Dominique Predali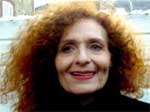 When you entrust your teeth to Dr Prasanth Pillai, you don't get just one specialist to sort out your smile, but a whole team. And what a lovely team this is: Incredibly professional, efficient, attentive, reassuring, kind, warm and friendly! The work is simply superb and the atmosphere at the clinic is totally relaxed and incredibly friendly. My teeth were a major disaster area. Now, only half way through the reconstruction process, I can say that the work Dr Prasanth and his team have done is truly amazing.
Why do people go to India to have their teeth fixed? The answer is obvious: at a fraction of the prices charged by western dentists, they can have their dental treatment with the added bonus of visiting the country. Dental tourism is a great concept becoming more and more popular, much to the disgust of western dentists.
A number of disastrous and very costly courses of dental treatments left my teeth in ruins – my upper jaw was like Hiroshima, after the bomb of course, and my lower like Nagasaki. Urgent and massive restoration was desperately needed. Implants seemed to be the best option. I consulted a few dentists, included some who contributed to the existing mess. "No" was their unanimous answer. "At this stage, the only option is dentures." And of course, these marvels were rather costly too.
Since none of these dentists were implantologists, I decided try my luck with well known specialists. Granted, they took a little longer to assess the situation but their reply was the same: "Mission impossible. Not enough bone there." Determined not to take "no" for an answer, I turned to my beloved internet and started searching for implant specialists in India. Why India? Well Indian dentistry has an excellent reputation. After a lot of research, I found Dr Prasanth Pillai and his ISO Certificate clinic which is also a recognized center of Decare Dental, USA and of the Europ Assistance International Dental Network. I also liked the fact that the clinic has a hospital wing and that Dr Prasanth has created a facial and dental treatment charitable trust for the patients who cannot afford facial surgical procedures.
I emailed Dr Prasanth a recent OPG and asked him if implants would be at all possible. After many mails, questions, and MRI examination, he said "Yes, we can give you implants." Needless to say that I was over the moon!
When I told one of the dentists that I was going to have my implants done abroad, he was horrified and strongly advised me against it. "Don't do it. This is sheer madness. You are taking unnecessary risks. You know there is this terrible new bug in Delhi. I must warn you that you are bound to have problems and that you won't find a dentist willing to treat you."
But I did and I am so glad. Dr Prasanth and team welcomed me like a long lost friend. Despite the terrible problems he met, he managed to fit my implants. He also did much more than this. He took care of all the dental and non dental aspects of my stay in Kochi, such as finding nice accommodation for me near the clinic, sorting out an internet connection, introducing me to people to interview for research I had planned to do while having my teeth fixed. He also introduced me to his lovely family, invited me to his home and offered me his friendship.
My mouth rehab is not finished. I have to go back next year to finish the work. And do you know what? I can't wait to go back. Not only to have my fabulous new cosmetically enhanced teeth but also to see my dear friends.
Best wishes and Regards
Dominique Predali
Dominique Predali